J. Strom Thurmond Lake
The U.S. Army Corps of Engineers completed the J. Strom Thurmond Dam -- also known as Clarks Hill Dam -- in 1954. This dam is located on the Savannah River between the Georgia and South Carolina borders above Augusta, Georgia, and creates the J. Strom Thurmond Lake. This lake represents the third and southernmost reservoir on the Savannah River, downstream from Lake Hartwell and Lake Russell. The lake also is known as Clarks Hill Lake after a local South Carolina town.
Since the lake has a depth of up to 110 feet, many divers use this lake. One attraction on the South Carolina side of the dam is a Cessna two-seat airplane submerged in 35 feet of water. The plane was placed here for training, and is in good condition.
Fishing

J. Strom Thurmond Lake encompasses almost 71,000 surface acres filled with largemouth, striped, and hybrid bass, bream, crappie, and catfish. Crappie is the fish most frequently caught in this lake during the spring. Largemouth bass also are caught most easily during the spring, but striped bass have eclipsed the largemouth as a popular game fish at Strom Thurmond Lake. This lake is popular for fishing tournaments and night fishing.
As of 2012, a reciprocal freshwater fishing agreement between Georgia and South Carolina's allows anglers to fish on the border waters of the Savannah River System from the North Carolina border down to the mouth of the Savannah River with a valid fishing license from either state. Those border waters include J. Strom Thurmond Lake.
Search J. Strom Thurmond Lake Resources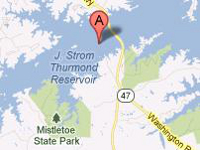 Coordinates:
33.6611N -82.1992W
Map It:
Lake Type:
Reservoir
Surface Area:
71,000 acres
Maximum Depth:
110 ft
Elevation:
328 ft
Normal Water Clarity:
5-15 ft
Major City:
Augusta, GA
Airport:
Augusta, GA