South Holston Lake
South Holston Lake's 7,580 acres are ideal for boating, kayaking, canoeing, water skiing, and fishing. Created by the Tennessee Valley Authority in the 1940s, the dam impounds the South Fork Holston River in Sullivan County, Tennessee. It is the first dam on the South Fork Holston, and it extends across Tennessee and Virginia state lines near Bristol.
Located about 50 miles above the South Fork Holston River's confluence with the North Fork Holston River, the dam and lake are situated in a beautiful Appalachian Mountain setting. The dam site and the Tennessee portion of this reservoir are surrounded by the Cherokee National Forest, which extends up into Virginia.
Fishing

South Holston Lake's habitats offer a diversity of structures, including rock bluffs, shale banks, and flat clay points. Trolling anglers can find open water structures ranging from mud flats to river channel drop-offs and submerged islands. TVA built a weir below South Holston Dam in 1991, adding to the river's oxygen when the hydropower plant isnít generating electricity. Look for smallmouth and largemouth bass, walleye, rainbow trout, black crappie, sunfish, and catfish. Forage consists of gizzard and threadfin shad, alewife, bluegill, and a variety of minnows.
In 2010, a reciprocal agreement between Tennessee and the Virginia Department of Game and Inland Fisheries went into effect. Tennessee residents currently can purchase an annual South Holston Reservoir License to fish the Virginia side of the lake. Virginia residents can obtain a similar license to fish the Tennessee side, but all residents still must have a valid state license. This is important information, especially for trout fishing, as each resident must have a valid state license to fish for that species. Visiting anglers must abide by state boundaries and the state that issues the license.
Search South Holston Lake Resources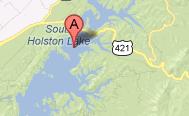 Coordinates:
36.5586N -82.0044W
Map It:
Lake Type:
Reservoir
Surface Area:
7,580 acres
Maximum Depth:
145 ft
Elevation:
1,726 ft
Normal Water Clarity:
6-10 ft
Major City:
Roanoke
Airport:
Roanoke