Dale Hollow Lake
The lake is in both Kentucky and Tennessee. The Dale Hollow dam is located in Tennessee, and the largest part of the 52,542-acre lake is located in Clay County, Tennessee. Dale Hollow Dam and Lake was authorized by the Flood Control Act of 1938 and the River and Harbor Act of 1946. The project was completed by the U.S. Army Corps of Engineers in 1943, making the lake the oldest artificial lake in Kentucky. The project was designed by the Corps of Engineers and built under their supervision by private contractors. Dale Hollow Dam's hydroelectric generators are used to supply power to the surrounding countryside. The Nashville District of the U.S. Army Corps of Engineers operates the dam, power plant and reservoir.
The Kentucky Department of Fish and Wildlife and the Tennessee Wildlife Resources Agency each maintain jurisdiction over the lake's waters within their respective states. Be aware of a reciprocal fishing agreement between the agencies. Recreational fisherman may be licensed by either state in order to fish in the respective reciprocal zones.
Fishing

If the name Billy Westmoreland, famed smallmouth angler of Celine, Tennessee, rings a bell, then you know that you've discovered a record-breaking body of fishing water. Billy started his angling career as a guide on Dale Hollow, where smallmouth bass in the 14-to 18-inch range are very common, with good numbers of fish in the 4- to 6-pound size. Dale Hollow Lake currently holds the world record for the largest smallmouth bass ever taken at eleven pounds, fifteen ounces. Dale Hollow also holds the Tennessee state record for lake trout at twelve pounds, thirteen ounces and the Kentucky muskie title at 43 pounds.
Search Dale Hollow Lake Resources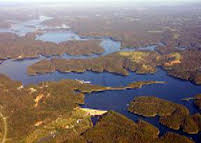 Coordinates:
36.63417N -85.28583W
Map It:
Lake Type:
Reservoir
Surface Area:
52,542 acres
Maximum Depth:
118 ft
Elevation:
649 ft
Normal Water Clarity:
4 ft
Major City:
Nashville
Airport:
Nashville