Lake Moultrie
Lake Moultrie, the third-largest lake in South Carolina, covers 60,000 acres, yet it is located entirely within Berkeley County. The South Carolina Public Service Authority completed the Pinopolis Dam in the early 1940s, creating this reservoir by impounding the Cooper River. A seven and one-half mile canal connects this lake with the largest lake in South Carolina, Lake Marion. A boat lock allows boat traffic through Pinopolis Dam into the Santee River. Residents and visiting anglers know this lake for its varied fishing environment and for its large alligators.
Fishing

Lake Moultrie has a variable fishing environment that contains thousands of tree stumps, live cypress, and swampland as well as vast open waters. The lake holds several state fish records, including a five-pound black crappie snagged in 1957 and a 58-pound channel catfish caught in 1964. If you want to count a 900-lound alligator, Mary Ellen Mara-Christian caught one with her fishing pole in 2010.
Other game fish in this lake include bluegill, largemouth, striped, and white bass, and a variety of catfish. Several fish attractors are located along the shoreline and within the lake. These attractors are marked by buoys. Lake Moultrie participates in the Fishing Tackle Loaner Program.
Search Lake Moultrie Resources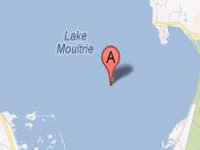 Coordinates:
33.3018N -80.0543W
Map It:
Lake Type:
Reservoir
Surface Area:
60,000 acres
Maximum Depth:
76 ft
Elevation:
77 ft
Normal Water Clarity:
3 ft
Major City:
Charleston
Airport:
Charleston