Lake Keowee
Waters from the Keowee and Little Rivers as well as other tributaries gather to form this 18,732-acre reservoir in northwestern South Carolina. The waters from Lake Keowee's outflow from the Keowee and Little River dams form the Seneca River, which then flows into the Savannah River. Located in beautiful mountain terrain, this lake is situated near state parks and offers water skiing, boating, swimming, and fishing along its 300 miles of shoreline.
The lake's shores have developed rapidly since its completion in 1971, and the developments continue to expand for residents, vacation homes, and tourism. While the lake might be considered overcrowded on summer weekends, the weekday and off-season boat traffic is more amenable to anglers who seek calmer waters.
Fishing

Lake Keowee's waters are cold, clear, and deep, and anglers can find largemouth, smallmouth, and spotted bass, as well as crappie, bluegill, yellow perch, catfish, and brown and rainbow trout. In 1979, a three-pound, four-ounce yellow perch made a state record, but don't discount the bass and trout fishing -- especially since this lake contains seventeen fish attractors.
Search Lake Kowee Resources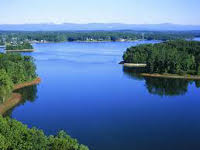 Coordinates:
34.8000N -82.8867W
Map It:
Lake Type:
Reservoir
Surface Area:
18,732 acres
Maximum Depth:
297 ft
Elevation:
800 ft
Normal Water Clarity:
Over 3 ft
Major City:
Greenville
Airport:
Greenville-Spartanburg