Lake Jocassee
The State of South Carolina and Duke Power created this reservoir in 1973 by impounding the waters from four rivers -- Whitewater, Thompson, Horsepasture, and Toxaway. The waters from Lake Jocassee flow into the Keowee River before it forms Lake Keowee. This popular recreation area contains little development along its 75 miles of shoreline, and anglers can capture trout here, as well as bass and other native species. Located near a state park and the towns of Walhalla and Clemson, visitors can enjoy city life as well as a vast rural environment.
Visitors to this lake can enjoy sight-seeing, boating, paddling, scuba diving, hiking, hunting, waterfall tours, and some of the best fishing in the entire state.
Fishing

With cold, clear waters and a depth of up to 351 feet, it's no surprise that this lake holds state records for five fish species. In 2001, three records were recorded, including a nine-pound, seven-ounce smallmouth bass in 2001, an eight-pound, five-ounce spotted bass, and a five-pound 2.5-ounce redeye bass. In 1987, a 17-pound, 9.5-ounce brown trout made the record books, and an eleven-pound, five-ounce rainbow trout was snagged in 1993.
Duke Energy consistently stocked brown and rainbow trout and smallmouth bass from 2001 to 2008. No fish attractors have been established, and a fishing loaner tackle program does not exist for this lake.
Search Lake Jocassee Resources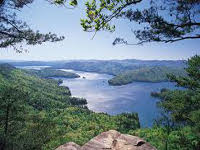 Coordinates:
34.9600N -82.9194W
Map It:
Lake Type:
Reservoir
Surface Area:
7,565 acres
Maximum Depth:
351 ft
Elevation:
1,100 ft
Normal Water Clarity:
Over 3 ft
Major City:
Greenville
Airport:
Greenville-Spartanburg