Fishing Creek Lake
Fishing Creek Lake, also known as Fishing Creek Reservoir, is located along the Catawba River near Lancaster, South Carolina. Duke Energy maintains and operates the 3,431-acre lake and 1,770-foot-long dam. Approximately five percent of the lake's 85 miles of shoreline is developed, with plans to develop at least 40 percent of the existing undeveloped properties. Currently, the lake appears remote, but it is located very near to several county seats.
The Fishing Creek Reservoir waters flow into Lake Wateree, the final reservoir along the Catawba River.
Fishing

Anglers might find this lake interesting, because it has the attributes of a lake, but it also offers some river-fishing situations. Although not a huge lake, you might be happy to find that you can use big bass rigs and catch largemouth bass that can range up to twelve pounds. Other game fish in this lake include white bass, crappie, bream, and catfish. Five fish attractors are located along shorelines on the east and west sides of the lower portion of the lake. All fish attractors are marked by buoys.
Search Fishing Creek Lake Resources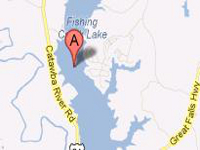 Coordinates:
34.5918N -80.8881W
Map It:
Lake Type:
Reservoir
Surface Area:
3,431 acres
Maximum Depth:
60 ft
Elevation:
416 ft
Normal Water Clarity:
3 ft
Major City:
Columbia
Airport:
Columbia