Seneca Lake
Seneca Lake, also known as Senecaville Lake, is one of Ohio's top boating and outdoor attractions. Situated in Guernsey County and Noble counties just south of Cambridge, it covers 3,550 acres framed by a picturesque shoreline 45 miles long.
Managed by the Muskingum Watershed Conservancy District, the lake was constructed by the US Army Corps of Engineers in 1938 for flood reduction and water conservation. Popular demand has come to define Seneca Lake as an outdoor recreational paradise.
Seneca Lake and accompanying Seneca Lake Park are easily accessible. Boating, fishing, camping, hiking, biking, hunting, swimming and more are among the reasons Seneca Lake is so popular. The park supports a full schedule of activities and events each year from Memorial Day through Labor Day.
Fishing

Seneca Lake yields satisfying catches from all corners of its scenic waters. Fishing is permitted both below and above the dam. Seneca Lake contains excellent populations of largemouth bass, crappies, bluegills, bullheads, channel catfish, and saugeye. The lake is stocked with saugeye and striped bass by the Division of Wildlife. It has also been stocked with Muskellunge and White Bass with moderate success.
Search Seneca Lake Resources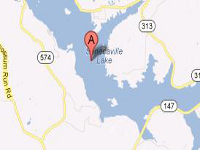 Coordinates:
39.9160N -81.4249W
Map It:
Lake Type:
Reservoir
Surface Area:
3,550 acres
Maximum Depth:
25 ft
Elevation:
832 ft
Normal Water Clarity:
1-3+' ft
Major City:
Columbus
Airport:
Columbus