Pymatuning Lake
Pymatuning is a man-made lake with 70 miles of shoreline that straddles the Ohio/Pennsylvania border in Ashtabula County, Ohio and Crawford County, Pennsylvania. The lake serves to provide water to the Shenango and Beaver valleys, to lessen flood damage and to provide a great destination for recreation.
Two full-service state parks, each named "Pymatuning State Park", are on the lake in Ohio and Pennsylvania. A scenic 2-mile-long causeway bridge spans the middle of the lake, connecting the towns of Espyville on the Pennsylvania side of the lake and Andover on the Ohio side.
Fishing

Pymatuning Lake is known for its fine walleye fishing and has the reputation of being one of the best fishing lakes in the state for catching muskellunge, walleye, largemouth bass, smallmouth bass, yellow perch, bluegill, black and white crappie, channel catfish, flathead catfish, brown bullhead, pumpkinseed sunfish, white bass, and carp.
Walleye fingerlings (1"+), Fingerling muskellunge (4"-6") and advanced fingerling muskellunge (9'-11") are stocked annually by the Ohio Division of Wildlife and / or the Pennsylvania Fish and Boat Commission.
PLEASE NOTE: *** You may fish the entire lake from a boat with only an Ohio fishing license. However, if you fish from shore or from an island on the Pennsylvania side, you MUST have a PA fishing license.***
Search Pymatuning Lake Resources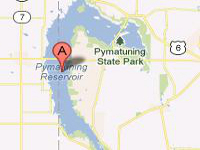 Coordinates:
41.5807N -80.5415W
Map It:
Lake Type:
Reservoir
Surface Area:
17,088 acres
Maximum Depth:
35 ft
Elevation:
1,001 ft
Normal Water Clarity:
1 - 3 ft
Major City:
Cleveland
Airport:
Cleveland