Paint Creek Lake
Paint Creek Lake, not far from Bainbridge, in the Scioto area of southwestern Ohio, boasts 1,190 acres of fun-filled boating and prosperous fishing waters defined by a woodsy, 30-mile shoreline.
The Paint Creek State Park, operated by the Ohio Department of State Parks as a day use area, offers mini golf, rock climbing, picnicking, hiking, mountain biking, horseback riding, hunting, boating fishing and a swimming beach. In addition, an amphitheater and summer nature programs are available. The park is open in the winter for ice boating, sled riding and cross-country skiing.
Fishing

Paint Creek Lake is populated with white and black crappie, blue gill, smallmouth bass, spotted bass, rock bass, suckers, darters, channel catfish, carp and saugeye.
Indiana's state record catch for the largest carp was set in 1967 when Judson Holton was fishing at Paint Creek Lake. His catch was recorded as 40 inches long weighing in at 50 pounds.
Search Paint Creek Lake Resources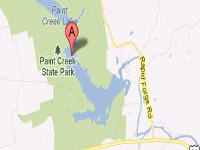 Coordinates:
39.2517N -83.3499W
Map It:
Lake Type:
Reservoir
Surface Area:
1,190 acres
Maximum Depth:
40 ft
Elevation:
804 ft
Normal Water Clarity:
3 - 4 ft
Major City:
Cincinnati
Airport:
Cincinnati