Leesville Lake
Leesville Lake, in northeastern Ohio is a reservoir formed by Leesville Dam across McGuire Creek which is a tributary of Conotton Creek.
Over 1,000 acres of water surface among 2,700 acres of land, its 27 miles of scenic shoreline offer beauty that can best be enjoyed from a boat since roads do not encircle this lake.
Leesville Lake, well known for its excellent "muskie" fishing, can be accessed via State Routes 39, 212 and 332.
In November of each year the lake is lowered to winter pool of 958 feet to allow more flood capacity, and to freeze and kill the roots of aquatic weeds. Levels are returned to summer pool in the spring.
Fishing

Leesville Lake is known for miles around as one of the top locations for "muskie" fishing in Ohio and the Midwest. It is also home to quality saugeye, largemouth bass, yellow perch, bluegill, black and white crappie, channel catfish, brown bullhead, northern pike, pumpkinseed sunfish, and carp.
You will find no walleye, no white bass and no striped bass in Leesville Lake.
Advanced fingerling muskellunge (9-11") and fingerling saugeye (1"+) are stocked annually by the Ohio Division of Wildlife. They stock Channel catfish yearlings (9") in odd-numbered years.
In addition to monitoring fish populations and stocking the lake, the Division of Wildlife activities include creel studies, and physical and chemical water quality analysis.
Search Leesville Lake Resources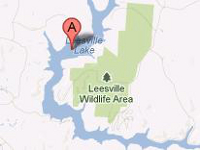 Coordinates:
40.4882N, -81.1637W
Map It:
Lake Type:
Reservoir
Surface Area:
1,011 acres
Maximum Depth:
37 ft
Elevation:
963 ft
Normal Water Clarity:
0 - 1 ft
Major City:
Cleveland
Airport:
Carroll County - Tolson