Grand Lake St. Marys
Originally constructed as a feeder reservoir for the Miami-Erie Canal, Grand Lake St. Marys is the largest inland lake in Ohio. It is approximately 9 miles long and 3 miles wide boasting 52 miles of shoreline covering an area of more than 12,900 acres. Three lighthouses stand guard around the lake. The oldest was erected in 1923 and the newest in 2003.
Grand Lake Saint Marys State Park is open for year-round boating, hunting, fishing, swimming and picnics.The campground offers a nature center and a boat ramp with overnight courtesy docks.
Ohio's only airport for seaplanes is on The Grand Lake St. Marys Seaplane Base.
Fishing

Year-round fishing attracts fishermen and women throughout the seasons. The lake is populated with largemouth bass, white and black crappies, bluegills, walleye, channel and flathead catfish, yellow perch, bullheads, carp and suckers. Gizzard shad is the primary forage species. Grand Lake St. Marys offers handicap-accessible shoreline fishing piers.
St. Marys Fish Hatchery located on the lake's eastern shore is operated by the ODNR Division of Wildlife. The hatchery raises saugeye, walleye, channel catfish and bass which produces stock for Ohio's public fishing waters.
Search Grand Lake St. Marys Resources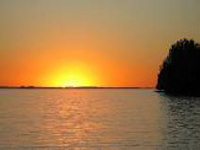 Coordinates:
40.5427N, -84.4648W
Map It:
Lake Type:
Reservoir
Surface Area:
12,900 acres
Maximum Depth:
7 ft
Elevation:
869 ft
Normal Water Clarity:
1 ft
Major City:
Lima
Airport:
Fort Wayne