Dillon Lake
Dillon Lake is six miles northwest of Zanesville in Muskingum County nestled in Ohio's rural hill countryside bathed in natural beauty. The Dillon State Park hosts this outstanding 1,376-acre lake and offers numerous opportunities to enjoy the great outdoors. The rolling, reverting farmland of the Dillon Lake area provides visitors the opportunity to see some of Ohio's most magnificent wildlife. White-tailed deer,ruffed grouse and wild turkey can be seen by quiet observers. Most recently, sightings of bald eagles have been reported.
Boating and fishing enthusiasts can enjoy the quiet coves and inlets of the lake. Bicyclists can travel the campground and area roads or hit the mountain bike trails. Equestrian riders can travel the specially designated horseback trails. Shooters can enjoy the lighted skeet and trap fields, 100-yard rifle and 25-yard pistol ranges with tables and shelters. If you prefer shooting arrows, a designated archery range with target distances ranging from 10 to 40 yards is also available.
Fishing

Fishing at Dillon Lake is good for largemouth bass, panfish, channel cats, hybrid stripers and saugeyes. Nearly half the bass sampled during the last Ohio Division of Wildlife's electrofishing survey were at least 12 inches long while 14% topped the 15 inch mark.
Crappies are slab-sized and great sport on light fishing gear. The ODOW fish survey showed that 64% of the white crappie population was eight inches or longer and of these fish, 23% were at least 10 inches. Bluegills and orange spotted sunfish round out the panfish offerings.
Dillon is a great channel catfish lake. Over 10 percent of the fish are at least 16 inches in length. The hybrid striped bass are 12 inches long and 8%t have reached 15 inch mark.
Search Dillon Lake Resources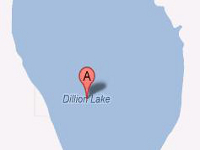 Coordinates:
40.0132N -82.1235W
Map It:
Lake Type:
Reservoir
Surface Area:
1,376 acres
Maximum Depth:
24 ft
Elevation:
735 ft
Normal Water Clarity:
1 - 3 ft
Major City:
Columbus
Airport:
Zanesville