Deer Creek Lake
Deer Creek Lake is a 1,277 acre reservoir with a 15-mile shoreline nestled among gently rolling hills and hardwood trees in south central Ohio. An ideal location for boating, fishing, camping, hiking and hunting, Deer Creek Lake also provides a shooting range, archery range and horse trails.
An abundance of wildlife which inhabits the area around the lake: ring-necked pheasant, cottontail rabbit, squirrel, white-tailed deer, wild turkey, raccoon, mink, red fox, skunk, coyote and beaver. Red-tailed hawks, Northern harriers and American kestrels are also common sights.
Fishing

Deer Creek Lake is famous for its early spring saugeye fishing below the dam. The ODNR Division of Wildlife maintains the saugeye fishery with annual stockings of 2" fingerlings at the rate of 60 per acre. All other fish species are sustained through natural reproduction.
The presence of major sport species such as bluegill, white crappie, channel catfish, saugeye, white, largemouth, smallmouth and rock bass, carp, bullhead and flathead catfish provide for excellent and diverse catches.
Fishing is allowed :from boats and along the shoreline, in and along Deer Creek Lake and in Deer Creek below and above the dam. Brush piles have been constructed at shoreline access sites to improve catches of bluegill and crappie.
The largest Hybrid Striped Bass ever caught in an Ohio lake was caught in Deer Creek Lake in May 2001. Rosemary Shaver of Logan, Ohio caught a Hybrid Striped Bass which weighed 17.68 pounds and was 31" long (Cited March 2011).
Search Deer Creek Lake Resources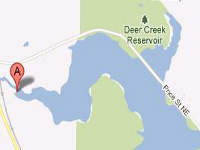 Coordinates:
39.6400N -83.2465W
Map It:
Lake Type:
Reservoir
Surface Area:
1290 acres
Maximum Depth:
40 ft
Elevation:
810.5 ft
Normal Water Clarity:
1 - 3 ft
Major City:
Columbus
Airport:
Columbus