Truman Lake
The largest man-made lake in Missouri, Harry S. Truman Reservoir, commonly referred to as Truman Lake was built by the US Army Corps of Engineers for power generation and flood protection. Nestled in the Harry S. Truman State Park, in mid-western Missouri, the lake provides 55,600 acres of recreational waters for fishing, boating, water skiing, sailing and more.
Harry S. Truman Lake and State Park offer a variety of recreational off-the-water activities which include hunting, hiking, horseback riding and camping.
Fishing

With an undisturbed 958-mile shoreline of trees and rock and bluff banks and coves, Truman Lake offers excellent fishing spots with a variety of fish to pursue.
The most sought after fish in Truman Lake includes black bass, white bass, bluegill, crappie, catfish and walleye, among others.
Truman Lake produced two of Missouri's record catches. In 2001, Johnny L. Ash caught a Gizzard Shad weighing in at one pound six ounces and, in 2009, Gerald Wright caught a Redhorse Shorthead that weighed two pounds 14 ounces.
Search Truman Lake Resources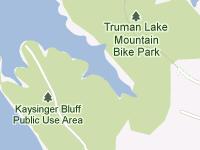 Coordinates:
38.2631N -93.4047W
Map It:
Lake Type:
Reservoir
Surface Area:
55,600 acres
Maximum Depth:
??? ft
Elevation:
654 ft
Normal Water Clarity:
3 ft
Major City:
Springfield
Airport:
Springfield