Stockton Lake
Stockton Lake, located in western Missouri, was created in 1969 when the US Army Corps of Engineers dammed the Sac River near Stockton to create a supplemental water source for Springfield while providing power generation, flood control and recreation.
Covering more than 24,000 acres with pristine waters contained by a 298-mile shoreline located in terrain of bluffs, banks and flats, there is little protection from the perpetual winds which blow across Stockton Lake. Sailing enthusiasts travel from all over the nation, to take advantage of the constant breezes on Stockton Lake.
The Stockton Yacht Club hosts annual sailboat races, including the Governor's Cup Regatta.
Other on-the-water activities include canoeing, boating, wake boarding, tubing, water skiing, jet skiing, scuba diving, swimming and fishing. Out-of-the-water activities offered by Stockton State Park include hiking, camping, picnicking and horseback riding.
Fishing

The most sought after fish in Stockton Lake include black bass, white bass, smallmouth bass, bluegill, crappie, catfish, tiger muskie and walleye.
Growth in the walleye population at Stockton Lake, due to diligent stocking efforts, allures anglers looking for exceptional catches of the marble-eyed walleye.
Stockton Lake holds a few records for producing some of Missouri's largest fish: In 1994, Kevin Clingan's Smallmouth Bass weighed seven-pounds two-ounces; in 1986; Ned Posenki's Tiger Muskellunge weighed 22-pounds, in 1975; Gene Moore's Northern Pike weighed 18-pounds nine-ounces; and in 1971, Paul Dilley's Green Sunfish weighed two-pounds two-ounces.
Search Stockton Lake Resources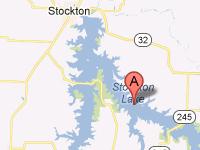 Coordinates:
37.6989N -93.7960W
Map It:
Lake Type:
Reservoir
Surface Area:
24,900 acres
Maximum Depth:
105 ft
Elevation:
867 ft
Normal Water Clarity:
10+ ft
Major City:
Springfield
Airport:
Springfield