Smithville Lake
The Kansas City office of the U.S. Army Corps of Engineers completed construction of the Smithville Dam on the Little Platte branch of the Platte River in Clay County, Missouri in 1977. Impoundment began in 1977, and the result was the 7,190-acre Smithville Lake. This reservoir provides water supply for Smithville and Plattsburg, and also provides great water recreation opportunities for Kansas City residents and visitors.
The Corps continues to maintain this lake, which is the 10th largest of all the Corps lakes in this district. The lake is located less than 30 minutes north of Kansas City, and it offers a golf course, several wildlife areas, beaches, boat rentals and boating, fishing, hiking, and horseback riding. Visitors to the area also can find casinos and vineyards withint ten miles of the lake, as well as the Clay County Park on the southeastern shore.
Fishing

Smithville Lake receives a lot of fishing pressure, since it is located near Missouri's largest city. Despite this issue, the lake continues to provide high-quality bass fishing, thanks to foresight by the Corps of Engineers. They stocked several lakes that were flooded by Smithville before the impoundment, creating an environment that has multiplied over the years.
Outside the great bass fishing, anglers also can enjoy amazing crappie fishing. Although the Flood of 1993 killed much of the lake's vegetation, the restoration provided one of the best fishing years in 2005. Other game fish in this lake include catfish and walleye.
Search Smithville Lake Resources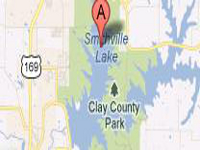 Coordinates:
39.4024N 94.5329W
Map It:
Lake Type:
Reservoir
Surface Area:
7,190 acres
Maximum Depth:
60 ft
Elevation:
864 ft
Normal Water Clarity:
3 ft
Major City:
Kansas City
Airport:
Kansas City