Norfork Lake
Norfork Lake, located in Baxter County, Arkansas and Ozark County, Missouri in the Ozark Mountains provides 22,000 acres of recreational waters contained within a 550-mile shoreline boasting 19 parks for all kinds of recreational outdoor activities.
Norfork Lake, created when the US Army Corps of Engineers built a dam on the North Fork River, provides excellent fishing opportunities. Below the dam on North Fork River, the Norfork National Fish Hatchery maintains a continuous supply of exquisite trout.
Camping, picnicking, hiking, boating, water skiing and swimming are a few examples of the recreational opportunities available on and around the lake.
Fishing

The most common fish in Norfork Lake include bass, bream, catfish, crappie and walleye while most every variety of game fish can be found. Fishing enthusiasts come from all around to enjoy relaxing and prosperous fishing outings on Norfork Lake.
Search Norfork Lake Resources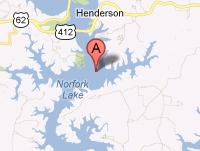 Coordinates:
36.5281N -92.2772W
Map It:
Lake Type:
Reservoir
Surface Area:
22,000 acres
Maximum Depth:
145 ft
Elevation:
554 ft
Normal Water Clarity:
6-10 ft
Major City:
Springfield
Airport:
Springfield