Lake of the Ozarks
Lake of the Ozarks, located in central Missouri, formed by the building of Bagnell Dam in the 1930s, provides over 56,000 acres of recreational water. Lake of the Ozarks offers camping and resort accommodations, hiking, horseback riding, water parks, music shows and other forms of family entertainment.
Built by the US Army Corps of Engineers for power generation and recreation, all the trees were cut down to make room for the building of private homes and resorts along the majority of the shoreline.
Fishing

Although much of the area surrounding the Lake of the Ozarks has been commercially and residentially developed, many areas remain untouched and are perfect for shoreline fishing. Lake of the Ozarks' undeveloped shoreline features coves and inlets littered with rocks, stumps, brush and more, where fishing from shore is permitted.
Four arms that branch off the lake: The Gravois, Grandglaize, Niangua and Osage, provide the best areas for fishing.
Lake of the Ozarks holds the record for producing several of the largest fish species caught in Missouri. In 1981, George Snelling caught a 41-pound two-ounce Muskellange; in 1986, Allen Schweiss caught a 36-pound 12-ounce Smallmouth Buffalo; in 1996, Ronald P. Wagner's Freshwater Drum Fish weighed 40 pounds 8 ounces; in 1994, Kyle Schneider caught a whopping 80 pound Bighead Carp; and in 2012, Rachel Davis caught a Goldeye, who weighed one-pound two-ounces.
Search Lake of the Ozarks Resources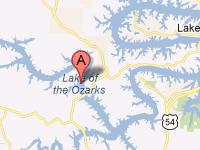 Coordinates:
38.0906N -92.6078W
Map It:
Lake Type:
Reservoir
Surface Area:
56,000 acres
Maximum Depth:
130 ft
Elevation:
660 ft
Normal Water Clarity:
5-7 ft
Major City:
Springfield
Airport:
Springfield