Clearwater Lake
Clearwater Lake, located in southeastern Missouri near Piedmont, built in 1948 by the Army Corps of Engineers for flood protection, includes the main lake along with its three main branches: the Black River, Logan Creek and Webb Creek.
Fed by the Black River, Clearwater Lake provides 1,630 acres of clear recreational waters for boating, fishing, water skiing, sailing and swimming. Other activities available around the lake and at Piedmont Park include hunting, hiking and camping.
Fishing

Anglers come to Clearwater Lake to fish for black bass, white bass, bluegill, cat fish, crappie and carp.
Clearwater Lake, because of its use for flood control, can be raised nearly 70 feet, which increases the surface area as much as six times. At the lake's normal level, Clearwater Lake seems to be clear of trees and brush, but when the water level is raised, the flooding of the shoreline trees and brush creates excellent places for fish to congregate.
Search Clearwater Lake Resources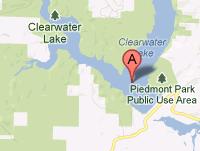 Coordinates:
37.1589N -90.7685W
Map It:
Lake Type:
Reservoir
Surface Area:
1,630 acres
Maximum Depth:
135 ft
Elevation:
608 ft
Normal Water Clarity:
10+ ft
Major City:
St. Louis
Airport:
St. Louis