Sardis Lake
Sardis Lake is a reservoir located along the Little Tallahatchie River in northern Mississippi. Located near Sardis and an hour southeast of Memphis, Tennessee, this lake was the first of four reservoirs developed by the U.S. Army Corps of Engineers in the Yazoo Headwaters Project, which includes Grenada Lake, Enid Lake, and Arkabutla Lake. Sardis lake is notable for its successful flood control capacity, which means the lake is drawn down to approximately 9,800 acres during the fall and winter to allow room for spring rains. Normal capacity is 32,400 acres, which residents and visitors use for water skiing, boating, swimming, and fishing.
The lake and its surrounding recreation areas extend over 98,000 acres. Sardis Lake is divided into "upper" and "lower" lake areas. The lower lake is approximately 425 acres, which is not included in the 32,400 upper lake summer pool acreage.
Fishing

Anglers can find a lot of large fish in this lake, including blue catfish and white river catfish. Most of the crappie here are over the twelve-inch legal limit. This lake also offers great largemouth bass and white bass fishing. Sardis Lake is known for its record 67-pound, 12-ounce bighead carp that Ron Maxwell caught in Sardis Lower Lake in 2007. This carp beat out the 66-pound, 12-ounce bighead carp that Al Reed hooked in this lake in 1999. Bryan Christian caught a 29.85-pound state record drum in the spillway here in 2011, and Robert Fulce snagged a 17.77-pound striped bass hybrid in the lower lake in 1991.
Search Sardis Lake Resources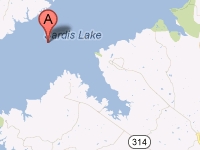 Coordinates:
34.6583N -95.3789W
Map It:
Lake Type:
Reservoir
Surface Area:
32,500 acres
Maximum Depth:
76 ft
Elevation:
596 ft
Normal Water Clarity:
3 ft
Major City:
Memphis, TN
Airport:
Memphis, TN