Ross Barnett Reservoir
Known as "The Rez" among locals, the Ross Barnett Reservoir serves as Mississippi's largest drinking water source. Created when the Pearl River was dammed in 1963, this 33,000-acre body of water is a major recreational venue with over two million people visiting each year to enjoy pleasure boating, fishing, water skiing, and camping. The lake hosts five campgounds, sixteen parks, twenty-two boat ramp launches, and trails.
Located just twenty miles from Jackson, Mississippi along the Natchez Trace Parkway, this lake has seen a recent rise in private developments. Visitors can see new marinas, golf courses, and subdivisions around the lake. However, public developments also exist, such as the Pearl River State Wildlife Management Area.
Fishing

Although the bones of a 40,000,000-year-old whale were discovered during the building of this reservoir, anglers are hard pressed to find a whale here today. But, Ross Barnett Reservoir does holds two state record fishing records -- in 1978, B. H. Toney captured an eighteen-pound, fourteen-ounce bowfin and Charles Cox snagged a 57-pound, twelve-ounce smallmouth buffalo here in 1983.
The Mississippi Wildlife, Fisheries and Parks divides the lake into several sections for fishing reports. These sections include the Upper Main Lake, the Lower Main Lake, a section of the reservoir located above Highwy 43, Pelahatchie Bay, and the spillway. The focus is on crappie and bass in the main lake areas, and on crappie, bass, and catfish in the other sections.
Search Ross Barnett Reservoir Resources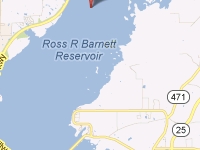 Coordinates:
32.4571N -90.0179W
Map It:
Lake Type:
Reservoir
Surface Area:
33,000 acres
Maximum Depth:
35 ft
Elevation:
297 ft
Normal Water Clarity:
3 ft
Major City:
Jackson
Airport:
Jackson