Okhissa Lake
The Natural Resource Conservation Service (NRCS) commissioned world-famous bass fisherman, Bill Dance, to help design Okhissa Lake's fish habitat from the initial 1999 planning phase for this reservoir. With this invitation, Okhissa Lake became Bill Dance's first "Signature Lake." Nestled in the Homochitto National Forest in southwest Mississippi, this lake's primary function was for fish habitat. Today, this secluded lake offers pleasure boating, swimming, and serves as an ideal venue for world class fishing.
The Bill Dance brand made this lake instantly popular among anglers who seek Bill Dance Signature Lakes. Okhissa Lake has over 34 miles of shoreline, and its deep waters are ideal for smallmouth bass. This species usually is not found this far south, as bass demand cooler waters. Since Okhissa is over 80-feet deep in some spots, this depth allows for cooler waters to support smallmouth bass habitat.
Fishing

At least 500 man-made beds fill this lake for fish habitat, and seven hundred acres of the lake are designed strictly for fishing. Additionally, trees remain on the lake bottom, providing even more habitat for fish that seek deeper, cooler waters. Mississippi has stocked F1 hybrid bass in this lake, but any angler anxious to catch a bass here might conduct some online research first to learn tips from other anglers who know the lake. The cove layouts and bass migration patterns can be tricky for a first-timer who is unfamiliar with this lake. The lake also supports bream, crappie and catfish.
Search Okhissa Lake Resources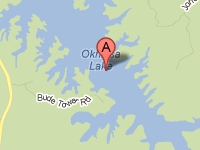 Coordinates:
31.4307N -90.8409W
Map It:
Lake Type:
Reservoir
Surface Area:
1,100 acres
Maximum Depth:
80 ft
Elevation:
292 ft
Normal Water Clarity:
3-6 ft
Major City:
Jackson
Airport:
Jackson