Grenada Lake
The U.S. Army Corps of Engineers developed Grenada Lake as one of four reservoirs in the Yazoo Headwaters Project. The other three lakes in this region include Enid Lake, Sardis Lake, and Arkabutla Lake. Grenada Lake is on the Yalobusha River, about three miles from Grenada, Mississippi. Although flood control is this reservoirs main purpose, its location and size makes this lake popular for fishing tournaments, camping, boating, and other water recreation sports.
The entire Grenada Lake project covers over 44,000 acres, and Grenada Lake takes up over 30,000 of those acres. A newly-constructed fish hatchery takes up 58 acres just east from the lake, and visitors can enjoy seeing the fish in tanks as well as along two 80-foot outdoor raceways.
Fishing

In 2004, J.E. Bennett broke the state record with a 40-pound longnose gar that he caught in the Grenada Lake spillway. William Mulvihill has maintained the state record for white bass -- also caught in the spillway -- with his five-pound, six-ounce trophy. This lake also is known for its healthy crappie population as well as its largemouth bass and catfish.
Search Grenada Lake Resources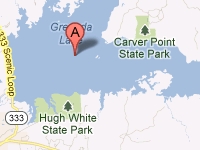 Coordinates:
33.4910N -89.4625W
Map It:
Lake Type:
Reservoir
Surface Area:
35,000 acres
Maximum Depth:
60 ft
Elevation:
215 ft
Normal Water Clarity:
3 ft
Major City:
Memphis, TN
Airport:
Memphis, TN