Enid Lake
Enid Lake is one of four reservoirs developed by the U.S. Army Corps of Engineers in the Yazoo Headwaters Project, which also includes Grenada Lake, Sardis Lake, and Arkabutla Lake. Enid Lake, located on the Yocona River, is recognized as one of America's "Top 10 Fishing Spots," but the lake also features modern family camping, hiking, boating, swimming, fishing, horseback riding, and hunting. Over 1.5 million people use this lake every year.
The entire Enid Lake project covers over 44,000 acres, and Enid Lake takes up 21,000 of those acres. A newly-constructed fish hatchery takes up 58 acres just east from the lake, and visitors can enjoy seeing the fish in tanks as well as along two 80-foot outdoor raceways.
Fishing

In 1999, Robert Mills snagged a 5.83-pound state record shortnose gar at the Enid spillway. No one has beaten Fred Bright's record white crappie at five pounds, three ounces, taken from this reservoir in 1957. Other common fish species in Enid Lake include largemouth bass, catfish and bream. Fish cleaning stations are located at George Payne Cossar State Park, Outlet Channel Recreation Area, and Wallace Creek Recreation Area.
Search Enid Lake Resources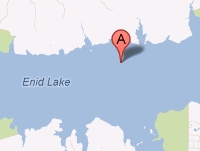 Coordinates:
34.1489N -89.9061W
Map It:
Lake Type:
Reservoir
Surface Area:
21,000 acres
Maximum Depth:
30 ft
Elevation:
266 ft
Normal Water Clarity:
3 ft
Major City:
Memphis, TN
Airport:
Memphis, TN