Toledo Bend Reservoir
With over 1,200 miles of shoreline that surrounds 181,600 acres of water, Toledo Bend Reservoir offers almost unlimited possibilities for boaters, anglers, campers, swimmers, hunters, and sightseers. Located on the Sabine River along the Louisiana-Texas border, this reservoir is the largest manmade body of water in the south and the fifth largest in the U.S. Known nationally as one of the best bass fishing hot spots in the country, this reservoir has dished up numerous lake and state record fish over the years.
Toledo Bend Reservoir is flanked on the Texas side by the Sabine National Forest. On the Louisiana side, visitors can find a state park at Toledo on the south end of the lake, and easy access to I-49, especially via the town of Many at mid-lake. From the dam site in Burkeville, Texas, the reservoir extends 65 miles to Logansport in Louisiana and covers four counties in Texas and two large parishes in Louisiana.
Fishing

Anglers can find a bass fishing paradise at Toledo Bend Reservoir, a nationally known destination for bass fishing tournaments. The lake contains a large area of submerged timber, which also shelters crappie, bluegill, white perch, freshwater drum, and catfish. The lake boasts a fish population of 300 pounds of game fish per acre, with native populations and an annual restocking program. Look for an abundance of black, white, striped, yellow, and Florida bass.
This lake is legend for its lake record fish, including a 71-pound flathead catfish (1985) and a 15-pound, 32-ounce largemouth bass (2000) on the Texas side of the lake. In Louisiana, lake records include a hybrid striped bass at 15 pounds and 21 ounces (1992) and a 23-pound, 18-ounce freshwater drum in 2002 (also a state record). State records from this lake include the 15-pound hybrid striped bass and a 47.50-pound striped bass in 1991. Dean Higginbotham caught a state record 2.56-pound yellow bass in 2011, and Brian Fant snagged a 20.50-pound bowfin here in 1976 -- this bowfin still holds the state #1 record. A 3.55-pound black crappie made state records in 2003, and a 3.16-pound white crappie made the grade in 2009.
In 2011, Louisiana and Texas reached the fourth reciprocal fishing license agreement within about twelve years. Texas regulations are stricter regarding length and bag limits, and the compromise leans toward Texas standards especially with catfish and crappie at Toledo Bend. Check with both state game and wildlife agencies before you fish to make sure you are complying with all rules and regulations.
Search Toledo Bend Reservoir Resources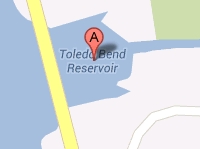 Coordinates:
31.1965N -93.5721W
Map It:
Lake Type:
Reservoir
Surface Area:
181,600 acres
Maximum Depth:
110 ft
Elevation:
172 ft
Normal Water Clarity:
3 ft
Major City:
Shreveport, Alexandria
Airport:
Shreveport, Alexandria