Lake Pontchartrain
Lake Pontchartrain borders the north boundary of New Orleans in Louisiana, and it is the largest of the three lakes that constitute the Pontchartrain Basin. Lake Maurepas is separated from Lake Pontchartrain by a land bridge, and a brackish marsh separates Lake Pontchartrain from Lake Borgne. All total, these lakes create almost 500,000 acres of wetlands that consist of fresh, intermediate, brackish, and saline marsh, including 215,600 acres of cypress swamp. Not a true lake, Lake Pontchartrain is an estuary that is connected to the Gulf of Mexico by the Rigolets strait and Chef Menteur Pass into Lake Borgne. Lake Pontchartrain contains over 38,000 surface acres, and about 3,200 acres are open waters.
Lake Pontchartrain is an active lake for all types of water recreation. Although it is shallow in some parts, depths can reach from 20-30 feet in open areas. Wildlife is prevalent, despite the lake's urban surroundings. Many wildlife preserves surround this lake and New Orleans. If you're into fishing, pleasure boating, or just want to be around the excitement in New Orleans and the Gulf of Mexico, this could be the body of water for you.
Fishing

Over 125 species of fish have been documented from this lake, including red, black, and freshwater drum, southern flounder, spotted and sand seatrout, bull shark, and gray snapper. The state's number one and number four records for hybrid striped bass came from this lake with a 16.25-pound fish in 2000, and a 14-pound fish in 1994. Michael Suriff caught a 100.31-pound alligator gar here in 2000, placing fourth in state records, and Jim Sisco caught the state's largest ladyfish here at 4.64-pounds in 2006.
Between 2000 and 2009, the Lake Ponchartrain and Basin Foundation created nine artificial reefs in the Jefferson Parish portion of the lake. To date, they've documented over 50 species of crabs, shrimp, fish, and clams at these sites near Bonnabel Boat Launch and Williams Boat Launch. Word is that speckled trout in the 19-inch range love the shrimp that gather at these artificial reefs.
Search Lake Pontchartrain Resources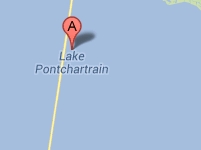 Coordinates:
30.2061N -90.1021W
Map It:
Lake Type:
Estuary
Surface Area:
38,500+ acres
Maximum Depth:
25 ft
Elevation:
12 ft
Normal Water Clarity:
3 ft
Major City:
New Orleans
Airport:
New Orleans