Lake D'Arbonne
Lake D'Arbonne is a 15,250-acre reservoir located east and south of Farmerville, Louisiana, in Union and Lincoln Parishes. Fed by the Little Corney and Corney Bayous, Bayou D'Arbonne, Middle Fork and Little Bayou D'Arbonne, this lake is a vast resource for Farmerville and its agriculture and industry. At the same time, this beautiful body of water serves as a great recreational venue. Wide expanses of water appeal to water skiers and pleasure boaters -- but anglers like the fact that catches of bream, crappie, catfish, and bass from this lake have broken records.
The surrounding area around Lake D'Arbonne is beautiful and filled with great outdoor attractions. Visitors have easy access to historic Farmerville and to several wildlife refuges, a prime golf course, and recent archaeological digs at Poverty Point State Historic Site. Lake D'Arbonne is located in the middle of Louisiana's "Sportsman's Paradise." The lake runs through the D'Arbonne National Wildlife Refuge, which serves as a haven for bald eagles, alligators, and other waterfowl and wildlife.
Fishing

The Louisiana Wildlife and Fisheries Department (LWFD) stocks this lake, which attracts numerous anglers every year. Crappie average a little over a pound, and anglers also can find catfish, bass, perch, bream, and panfish in this lake.
Some state record fish caught in this lake include Ed Stellner's 15.31-pound largemouth bass in 2000, John Hayden's 1.14-pound bluegill in 2002, Clark La Borde's 2.61-pound white crappie in 2012, and George Wallace's 5.56-pound chain pickerel in 1977.
Search Lake D'Arbonne Resources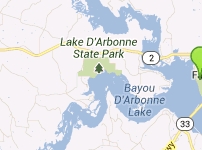 Coordinates:
32.4541N -92.2526W
Map It:
Lake Type:
Reservoir
Surface Area:
15,250 acres
Maximum Depth:
40 ft
Elevation:
80 ft
Normal Water Clarity:
4 ft
Major City:
Monroe
Airport:
Monroe