Lake Bistineau
A log jam on the Red River in Louisiana created the original Lake Bistineau; but, the lake drained when the jam was dredged. In 1942, the government decided to construct a permanent dam, resulting in Lake Bistineau. This reservoir is long and narrow, and extends across three parishes in the northwest part of the state. The lake is lined with old cypress tress draped with Spanish Moss. Water skiers can enjoy the open waters, while anglers can cast for a record bass in the coves and fingers of this fourteen-mile-long lake.
Lake Bistineau has had a non-native salvinia fern infestation since 2006, and this plant can impair boating activities. The lake is being restored from the most recent 2009 infestation that covered 4,500 acres of the lake's 15,550-acre surface.
Fishing

There are no official Lake Bistineau fish records, but if you hunt for them online you can learn about the nine-pound, nine-ounce bass that Tony Snyder caught in February 2000, and the twelve-pound, one-ounce bass that Kenny Miller caught just one month later. More common are bass in the two-five pound range.
Other fish in this lake include crappie, catfish, and striped, white, spotted, and smallmouth bass. These fish enjoy a habitat that includes shallow to deep water filled with flooded cypress trees, islands, underwater structures, old creek beds, and shallow flats.
Search Lake Bistineau Resources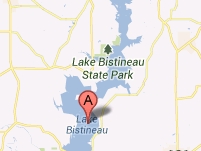 Coordinates:
32.1935N -93.2534W
Map It:
Lake Type:
Reservoir
Surface Area:
15,550 acres
Maximum Depth:
25 ft
Elevation:
292 ft
Normal Water Clarity:
3 ft
Major City:
Shreveport
Airport:
Shreveport