Lac Des Allemands
Lac Des Allemands, or "Lake of the Germans," is a natural lake named for German settlers who came to this part of the Mississippi Delta region in the early 1700s. This area, also known as the German Coast, kept elements of its culture through the twentieth century. However, many Germans also integrated with an existing French population to create a Cajun culture.
Located mostly in Saint John the Baptist Parish, Lac Des Allemands is a natural lake fed by numerous bayous located in the Barataria Basin near New Orleans. Even though this lake is close to urban areas, the lake offers a variety of wildlife and swamp features that can be viewed from swamp boat tours. But, the lake also offers plenty of opportunities for anglers to catch a record catfish or bass.
Fishing

Lac Des Allemands' maximum depth is only ten feet, but it is a fertile lake that attracts many anglers -- especially catfish lovers. Former Governor Edwin Edwards declared the town of Des Allemands the "Catfish Capital of the World" in 1975. In 1980, the state legislature resolved to title this town the "Catfish Capital of the Universe." Anglers find that 30-60 pound catfish catches are common. Des Allemands, a town located just four miles south of the lake, hosts the annual Louisiana Catfish Festival in early summer.
Other fish in this lake include healthy crappie, bass, and panfish.
Search Lac Des Allemands Resources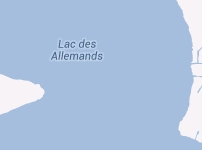 Coordinates:
29.9238N -90.5776W
Map It:
Lake Type:
Natural Lake
Surface Area:
12,000 acres
Maximum Depth:
10 ft
Elevation:
12 ft
Normal Water Clarity:
3 ft
Major City:
New Orleans
Airport:
New Orleans