Kincaid Reservoir
Kincaid Reservoir was formed in 1972 with an earthen dam that is located just ten miles west from Alexandria. The reservoir, also known as Lake Kincaid, serves as a recreational venue for water skiing, fishing, swimming, and boating. Unlike many of the swampy bayous and lakes in Louisiana, Kincaid Reservoir is pleasantly clear, and it is one of the deeper lakes in this state with a maximum depth of 20 feet.
Although the City of Alexandria is located just to the east of this lake, visitors to Kincaid Reservoir are surrounded by the 640,000-acre Kisatchie National Forest. This is the only national forest in the state, and it supplies excellent outdoor opportunities for the entire family. Camping, hiking, hunting, horseback riding, and mountain biking as well as fishing are available, including two trails that are designated national recreation trails for their scenic beauty.
Fishing

Anglers of all ages can enjoy bank or boat fishing at Kincaid Reservoir. The lake is stocked with sun perch, bass and catfish. Anglers also can find bluegill, bream, gar, and chain pickerel here. The top three slots for state records belong to chain pickerel caught in these waters from 1976 to 1985. The largest chain pickerel weighed in at 5.75 pounds. A 1.64-pound bluegill also brought in a state record in 1999, and it remains the largest bluegill ever caught in Louisiana.
Search Kincaid Reservoir Resources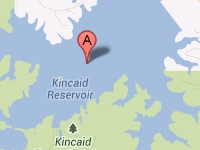 Coordinates:
31.2835N -92.6146W
Map It:
Lake Type:
Reservoir
Surface Area:
2,600 acres
Maximum Depth:
20 ft
Elevation:
92 ft
Normal Water Clarity:
3-5 ft
Major City:
Alexandria
Airport:
Alexandria