Cypress Bayou Reservoir
Cypress Bayou Reservoir in northwest Louisiana is a reservoir that offers water skiing, boating, swimming, and fishing. Located in Bossier Parish just nine miles north of Shreveport, this reservoir was created by an earthen dam, and it receives inflow from Cypress Bayou, Little Caney Bayou, and White Oak Bayou. Depths range from five feet to over 20 feet near the dam, offering a wide range of opportunities for power boaters and for shallow-draft boat angling.
Cypress Bayou Reservoir is a sister reservoir to Black Bayou Reservoir, located just one mile to the west. Both bodies of water share the convenience of the Black Cypress Bayou Park & Recreation Area on Cypress Bayou Reservoir's western shore. This park offers camping, boat ramps to Cypress Bayou Reservoir and other activities such as a beach for swimming and grills for picnics.
Fishing

This reservoir offers a wide variety of fish species, but the most sought-after fish include bass, crappie, and catfish. Cypress Bayou Reservoir offers coves and structures such as grass lines, stumps, boat docks, and lily pad fields. Anglers might enjoy the shorelines, covers, and northern shallow areas to escape wakes created by power boaters closer to the dam site.
Search Cypress Bayou Reservoir Resources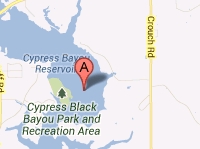 Coordinates:
32.6534N -93.6528W
Map It:
Lake Type:
Reservoir
Surface Area:
3,400 acres
Maximum Depth:
20 ft
Elevation:
171 ft
Normal Water Clarity:
3 ft
Major City:
Shreveport
Airport:
Shreveport