Cross Lake
Cross Lake, located in Caddo Parish in northwest Louisiana, was formed with the creation of Cross Lake Dam and Spillway in 1926, which impounded Cross Bayou. The reservoir is partially surrounded by forest and wetlands. With the lake's proximity to western Shreveport, the rest of the lake's 70-mile shoreline is becoming highly developed. Even though this lake is a cozy home for alligators, visitors enjoy fishing, water skiing, and swimming here.
The City of Shreveport owns and operates Cross Lake, and all activities are under the Shreveport Police Department's jurisdiction. Officers assigned to the lake's unit usually monitor activities at this popular lake by boat.
Fishing

Fishing is a popular sport on Cross Lake. The lake, home to several fishing tournaments, is well known for its bass populations. Other fish in this lake include bream, white perch, redear sunfish, and catfish. Stocking takes place on an annual schedule. As the City of Shreveport owns this lake, anglers can find several regulations not seen elsewhere. See our "boating" section below to learn more.
This lake also has 14-17-inch slot limit, requiring that any angler catching a bass caught within that range to release it immediately. Note also that this lake receives a lot of pressure with its proximity to a large city and the water and jet skiing activities. With all that aside, this lake is ideal for anyone who wants the luxury of being near a city while enjoying some of the relatively isolated parts of this lake on the west end.
Search Cross Lake Resources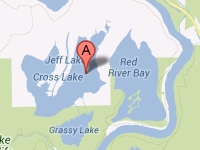 Coordinates:
32.5127N -93.7982W
Map It:
Lake Type:
Reservoir
Surface Area:
8,900 acres
Maximum Depth:
19 ft
Elevation:
174 ft
Normal Water Clarity:
3 ft
Major City:
Shreveport
Airport:
Shreveport