Caddo Lake
Caddo Lake, located between Texas and Louisiana less than an hour's drive north of Shreveport, is the south's second largest freshwater lake and features the largest Cypress forest in the world. On the Louisiana side of this lake, the waters can support nearly any size boat and motor. On the Texas side of the lake, however, limited depth and hazards call for pontoon boats, flat-bottom boats, or canoes. Ancient Cypress trees draped with Spanish moss, marked and unmarked waterways, islands, canals, and bayous make up the Texas side of Caddo Lake.
It is estimated that this lake came into existence between 1770 and 1780, possibly with a log jam on the Red River in Louisiana. When that jam was removed, the lake lost ten feet of water. To improve conditions, especially in Texas, the U.S. Army Corps of Engineers erected a dam near Mooringsport, Louisiana.
Fishing

With over 71 species of fish in this lake, anglers can have a field day, depending on whether they want to fish shallow or deep waters. The most popular sport fish is the largemouth bass, with a good number over eight pounds readily available. Other fish include spotted and white bass, catfish, crappie, sunfish, and chain pickerel. Louisiana state fish records here include a 13.94-pound hybrid striped bass in 1990.
In one of the best fish stories ever, Keith Burns broke the lake record with a 16.17-pound largemouth bass in spring 2010. Just one year later, Burns' buddy, Sean Swank, ended up catching the same bass -- only it was two inches longer and skinnier. Catch and release and tagging the fish in the ShareLunker program proved the catch was the same. Burns still holds the record by .10 pounds in Texas at 16th place, and his buddy Swank holds 20th place with that same fish.
Be sure to learn about reciprocal license agreements between Louisiana and Texas. As of September 2011, limits for catfish, crappie, and white and black basses apply to the entire lake. Regulations for other fish vary by state.
Search Caddo Lake Resources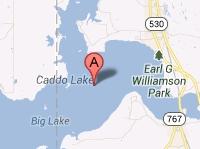 Coordinates:
32.71N -94.01W
Map It:
Lake Type:
Reservoir
Surface Area:
25,400 acres
Maximum Depth:
20 ft
Elevation:
168 ft
Normal Water Clarity:
3 ft
Major City:
Shreveport
Airport:
Shreveport