Rough River Lake
The U.S. Army Corps of Engineers formed Rough River Lake in 1955 when they impounded Rough River. The lake, which became operational in 1961, is the main attraction for visitors at Rough River Dam State Resort Park, located across Breckinridge, Hardin, and Grayson counties in south central Kentucky. The 5,100-acre reservoir provides a wide variety of outdoor recreational opportunities. Today, the Corps, in partnership with the Commonwealth of Kentucky, manages the land and water for wildlife, fisheries, and recreation.
Fishing

Rough River Lake provides anglers with great bass fishing, including largemouth, smallmouth and hybrid striped bass. An average of eleven bass tournaments are held on this lake annually, and Rough River Lake consistently ranks in the top five lakes for producing the heaviest average first-place weight of bass caught during a standard eight-hour tournament.
Other popular gamefish in this lake include black and white crappie. A number of fish attractors are established carefully in the lake, and consist mostly of brush and Christmas trees. Those attractors provide great cover and food for crappie environments.
Search Rough River Lake Resources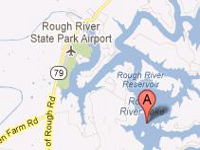 Coordinates:
37.6116N -86.4840W
Map It:
Lake Type:
Reservoir
Surface Area:
5,100 acres
Maximum Depth:
80 ft
Elevation:
495 ft
Normal Water Clarity:
3 ft
Major City:
Louisville
Airport:
Louisville