Laurel River Lake
The U.S. Army Corps of Engineers built this reservoir in 1977 on the Laurel River, a tributary of the Cumberland River, in the Daniel Boone National Forest. The Army Corps of Engineers and the Forest Service both work to develop recreational facilities at the reservoir, which is located in Laurel and Whitley counties. Today, the Forest Service manages most of the land as part of Daniel Boone National Forest. The Army Corps of Engineers maintains the operation of the dam and runs recreational facilities at the dam, including a permanent beach.

Because of the wide variety of natural resources, this area is perfect for a getaway or family vacation. You can choose from activities such as fishing, camping, picnicking, boating, canoeing, hiking, horseback riding, and scuba diving. Touted as one of the cleanest, clearest, and deepest lakes in Kentucky, the waters here are the most consistent producers of smallmouth bass over five pounds.
Fishing

Laurel River Lake produced the largest smallmouth bass -- seven pounds, seven ounces -- submitted to the Trophy Fish/Master Angler Program in 2009. Coolie Williams set a Kentucky state record in May 1998, when he snagged an 8.46-pound smallmouth bass. In 2005, however, Kentucky Fish and Wildlife reinstated David Hayes' eleven-pound, fifteen-ounce smallmouth taken in 1955 from Dale Hollow as the Kentucky state record smallmouth bass.

Outside smallmouth bass, Derek Cowden set a record for catching a 10.53-pound northern pike in 2006 in this lake.
Search Laurel River Lake Resources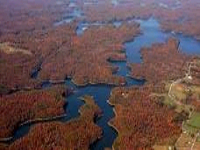 Coordinates:
36.9500N -84.2667W
Map It:
Lake Type:
Reservoir
Surface Area:
5600 acres
Maximum Depth:
297 ft
Elevation:
686 ft
Normal Water Clarity:
10 ft
Major City:
Lexington
Airport:
Lexington