Lake Williamstown
Lake Williamstown is a 350-acre Grant County lake located about two miles east of Williamstown. A private excavation company built the lake in 1955 when they impounded the South Fork of Grassy Creek. It was open to fishing in 1957, and managed by the Army Corps of Engineers. This is the largest of all the Grant County lakes, and the city of Williamstown owns it. It includes commercial marinas, launches, and more than 300 beautiful lakefront properties that may be open to rent. The black and white speckled waterfowl Loon visits the lake during the early spring.
Enjoy yearly events such as the Labor Day Boat Parade and Paddle Williamstown and other summer festivities. Bass tournaments and water safety courses also are offered. The lake is under an expansion project that is expected to trip the size of the lake to supply more safe water to the surrounding areas.
Fishing

If you would rather fish, you can expect to find largemouth bass, bluegill, white crappie, black crappie, redear sunfish, green sunfish, longear sunfish, channel catfish, black bullhead, yellow bullhead, and redhorse sucker.
Search Lake Williamstown Resources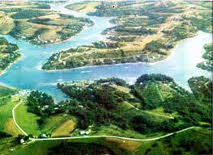 Coordinates:
38.6781N -84.5191W
Map It:
Lake Type:
Reservoir
Surface Area:
350 acres
Maximum Depth:
70 ft
Elevation:
768 ft
Normal Water Clarity:
3 ft
Major City:
Cincinnati
Airport:
Cincinnati-Northern KY