Lake Cumberland
Lake Cumberland reservoir is located in several Kentucky counties -- Clinton, Laurel, McCreary, Pulaski, Russell, and Wayne. The Army Corps of Engineers impounded the lake with Wolf Creek Dam on the Cumberland River as a means for flood control and for the production of hydroelectric power in 1952. The reservoir ranks ninth in the U.S. in size, with 6,100,000 acre feet of water capacity, making this lake the 25th largest in the U.S. The main portion of Cumberland Lake is 101 miles long and over one mile across at its widest point.
Lake Cumberland is also a major source of tourism for south-central Kentucky. The U.S. Army Corps of Engineers controls or maintains 383 lakes, and this lake ranks fourth among them in the nation for number of visitor hours. The lake is home to two Kentucky state parks -- the lake surrounds Lake Cumberland State Resort Park on three sides, and General Burnside State Park is located on an island in the middle of the lake.
Fishing

Several of Kentucky's record fish were taken from Lake Cumberland waters, including:

1954: Sturgeon weighing 36 pounds, eight ounces
1958: Walleye weighing 21 pounds, eight ounces
1983: Sauger weighing seven pounds, seven ounces
1985: Striped bass weighing 58 pounds, four ounces

Anglers can fish for largemouth bass, smallmouth bass, spotted bass, crappie, walleye, striped bass, sauger, bluegill, and channel catfish. Lake Cumberland is noted for their smallmouth bass, striped bass, and walleye. The striped bass fishery is one of the best in the US.

The Cumberland River from the dam downstream to the Tennessee border is known as one of the premier rainbow and brown trout fisheries in the southeast. Bank and wade anglers have success in the upper sixteen miles of river just below the dam. Boat ramps are located just below the dam, at Helms landing, and at Winfrey's Ferry. Wolf Creek National Fish Hatchery, which raises nearly 800,000 trout each year to stock Kentucky's waters, is located below Lake Cumberland Dam.
Search Lake Cumberland Resources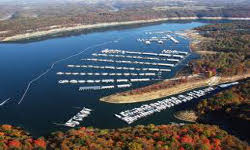 Coordinates:
36.8889N -85.0500W
Map It:
Lake Type:
Reservoir
Surface Area:
65,530 acres
Maximum Depth:
197 ft
Elevation:
722 ft
Normal Water Clarity:
4 ft
Major City:
Bowling Green
Airport:
Nashville