Herrington Lake
Herrington Lake is a 2,335-acre artificial lake located in Mercer, Garrard, and Boyle counties in Kentucky. Kentucky Utilities dammed the Dix River, a tributary of the Kentucky River, to generate hydroelectric power beginning in the fall of 1923. They began to impound water in 1925, and they completed the project in 1927.
With a maximum depth of 249 feet, Herrington Lake is the deepest lake in Kentucky. If you're searching for some deep water, the area near the dam reaches 249 feet, and the lake's mean depth is 78 feet. The Dix River enters the Kentucky River at High Bridge a short distance below the dam.
At the time of construction, Dix Dam was considered a major engineering feat, because it was the largest earth-filled dam in the world. Kentucky Utilities still owns the lake, and its main dispatch and communication center is located at the site. The top of the dam is 287 feet above the riverbed and stretches 1,087 feet across the Dix River Gorge between Mercer and Garrard Counties. The dam is 24 feet wide on top and 750 feet wide at its base.
Fishing

Great fishing also is abundant and the well-stocked lake contains bluegill, catfish, crappie, hybrid striped bass, largemouth bass, spotted bass & white bass. In a state filled with reservoir lakes, Herrington Lake consistently produces some of the best reservoir fishing the state has ever known. The only record noted, however, was B. B. Hardin's five-pound white bass, caught in June, 1957.
Search Herrington Lake Resources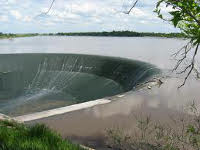 Coordinates:
37.7366N -84.7043W
Map It:
Lake Type:
Reservoir
Surface Area:
2,335 acres
Maximum Depth:
249 ft
Elevation:
760 ft
Normal Water Clarity:
3 ft
Major City:
Lexington
Airport:
Lexington