Carr Creek Lake
Carr Creek Lake, previously known as Carr Fork Lake, is located 20 miles east of Hazard on Kentucky Route 15 in Knott County. You'll encounter rough, mountainous terrain, primarily forested with big hardwoods, and some brushy areas. Camping is allowed in Army Corps of Engineers-maintained campgrounds only. The U.S. Army Corps of Engineers owns this lake, and they created it in 1976.
Carr Creek Lake's dam is an earth-and-rock fill dam located 8.8 miles above the mouth of Carr Fork River, which is a tributary of the North Fork Kentucky River. The lake is the main attraction of Carr Creek State Park. You can enjoy a full range of recreational opportunities on this 29-acre park, including a beach, bathhouse, fishing, picnic areas, and 39 camp sites.
The 710-acre lake and surrounding area offers a wide variety of outdoor recreation opportunities. The Corps cooperates with the Commonwealth of Kentucky to manage the land and water for wildlife, fisheries and recreation. Nearby attractions include Daniel Boone National Forest, Carr Creek State Park, Bad Branch Falls Nature Preserve, Natural Bridge State Resort Park, and Buckhorn Lake and Buckhorn Lake State Resort Park.
Fishing

Fishing is an enjoyable pastime pursued at Carr Creek Lake, especially for crappie. Native species persisting after impoundment include smallmouth bass, black crappie, and white crappie. Additional game species introduced into the lake include largemouth bass, channel catfish, bluegill, redbreast sunfish and walleye. Gizzard shad were introduced to improve the forage base and are persistent. Threadfin shad, which do not tolerate the cold winter temperatures, have been stocked annually since 1986. Trout are released monthly during the summer below the dam.
Search Carr Creek Lake Resources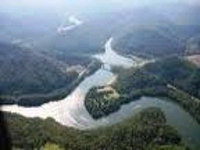 Coordinates:
37.232648N -82.992267W
Map It:
Lake Type:
Reservoir
Surface Area:
710 acres
Maximum Depth:
ft
Elevation:
ft
Normal Water Clarity:
ft
Major City:
Kingsport TN
Airport:
Lexington