Prairie Creek Reservoir
A man-made water storage facility used for drinking water, privately-owned by the Indiana-American Water Co., Prairie Creek Reservoir Dam was completed in 1959 on the Unnamed Tributary White River in Delaware County, Indiana and is leased to the Muncie Parks & Recreation Department.
Prairie Creek Reservoir, the main feature of the Prairie Creek Reservoir Park located in Muncie Indiana provides a 1,252 acre body of stream-fed water that is kept stocked with a diverse population of game fish. This 2,300 acre park features all kinds of fun activities. The reservoir is available for sailing, boating, fishing and swimming. The Prairie Creek Reservoir Beach is open free to the public, but there are no lifeguards on duty.
The park land around the reservoir is available for hiking, biking, picnicking and camping. Playgrounds and ball courts for basketball and volleyball are also available.
Fishing

Prairie Creek Reservoir, stocked with bass, bluegill, catfish, perch, crappie and walleye, provides a variety of tasty fish for the taking. In the wintertime, many people take their ice shanties on the frozen reservoir to enjoy ice fishing.
Please note that even though Prairie Creek Reservoir is not owned and operated by Indiana's Department of Natural Resources, a fishing license is required to fish in the reservoir and a "Bank Permit" must be purchased from the marina before fishing from the bank.
Search Prairie Creek Reservoir Resources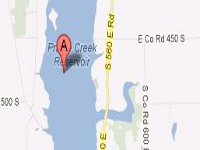 Coordinates:
40.1462N -85.2933W
Map It:
Lake Type:
Reservoir
Surface Area:
1,275 acres
Maximum Depth:
30 ft
Elevation:
988 ft
Normal Water Clarity:
0-1 ft
Major City:
Indianapolis
Airport:
Indianapolis