Patoka Lake
Picturesque Patoka Lake nestled within the Hoosier National Forest in southern Indiana flows through Crawford, Dubois and Orange counties, providing over 8,800 acres of life-saving, life-sustaining and recreational waters. In addition to providing flood control and supplying drinking water to residents of nine Indiana counties, Patoka Lake provides year-round activities for outdoor enthusiasts, not to mention, a healthy habitat for diverse wildlife.
Patoka Lake is a noted for being a prime example of balanced lake ecology as it provides a healthy habitat for freshwater jellyfish and bald eagles, alike. The lakes, rivers, ponds, wetlands and marshes of the Hoosier National Forest provide ecosystems for 50 mammal species, 125 fish species, 36 reptilian species, 28 amphibian species and 142 bird species.
The lake accommodates successful fish and wildlife management and enhancement, which exists as a cooperative management effort between the Corps of Engineers and the Indiana Department of Natural Resources.
On-the-water activities include boating, wake boarding, water skiing, swimming, fishing while out-of-the-water activities include hiking, biking, picnicking, camping, horseback riding and wildlife viewing. Wildlife and wildflower viewing areas, identified by the U.S. Forest Service with "Watchable Wildlife" signs, allow visitors who bring binoculars to maximize their wildlife viewing experience.
Excellent opportunities for winter sports' enthusiasts are available by providing a designated cross-country skiing course, 15 machine-groomed slopes for downhill skiing and snowboarding and the frozen lake is open for ice fishing and skating.
Fishing

Host of the 2008 Crappie USA National Classic, Patoka Lake has become widely known as Indiana's best fishing lake. With its many inlets and coves to explore, Patoka Lake is a paradise for anglers looking for exceptional catches of bass and crappie. .
Patoka Lake's fish population also includes walleye, redear sunfish, bluegill and catfish. The channel cats in Patoka Lake average between 5 to 10 pounds, with quite a few reaching the 15 to 20 pound mark.
Fly fishing for hybrid striped bass is popular on Patoka Lake. Anglers can be seen bank fishing along the roads around the lake.
Search Patoka Lake Resources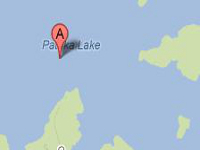 Coordinates:
38.4020N -86.6201W
Map It:
Lake Type:
Reservoir
Surface Area:
8,880 acres
Maximum Depth:
52 ft
Elevation:
536 ft
Normal Water Clarity:
3 - 6 ft
Major City:
Evansville
Airport:
Evansville