Mississinewa Lake
Natural and scenic Mississinewa Lake, located in north central Indiana, along the Mississinewa River, provides 3,180 acres of flood-control waters that welcome recreational users. Also referred to as Mississinewa Reservoir, the lake is a prized natural resource. Because it lies within 15,000-acres of land protected by the Indiana Department of Natural Resources (DNR), which includes the Miami State Recreation Areas (SRA), Red Bridge SRA w/marina, Frances Slocum SRA and Pearson Mill SRA, Mississinewa Lake is unspoiled by resorts, vacation properties or real estate along its well-preserved 59-mile shoreline.
Boaters, swimmers, hikers, bird watchers, fishing enthusiasts, water sports' enthusiasts and all lovers of the outdoors, flock to Mississinewa Lake for the promise of a fulfilling good time.
A unique formation of cliffs with inner chambers, sculpted by hundreds of years of wind and flood waters eroding sandstone walls, has become known as the Cliffs of the Seven Pillars. This wonder of nature is a must-see for visitors of Mississinewa Lake
Fishing

Excellent fishing abounds at various locations around Mississinewa Lake.
The most sought after fish in the Mississinewa Lake includes channel and flathead catfish, white bass, large and smallmouth bass, white crappie and black crappie, bluegill and walleye.
Fishing piers, a marina and a fish-cleaning station provide everything needed for a great day of fishing.
Search Mississinewa Lake Resources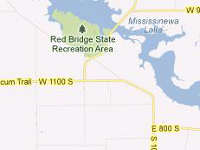 Coordinates:
40.7148N -85.9583W
Map It:
Lake Type:
Reservoir
Surface Area:
3,180 acres
Maximum Depth:
137 ft
Elevation:
753 ft
Normal Water Clarity:
1 ft
Major City:
Indianapolis
Airport:
Indianapolis