Lake Maxinkuckee
A valuable natural resource the glacially-formed Lake Maxinkuckee, located in the Northern Tourism Region is Indiana's second largest natural lake. Covering 1,854 acres with clear and refreshing waters used for recreational purposes, Lake Maxinkuckee is two and one half miles long by one and one half miles wide.
Swimming, sailing, boating, water skiing and scuba diving attract water enthusiasts to Lake Maxinkuckee. With a mean depth of 24 feet and a maximum depth of 88 feet, Lake Maxinkuckee is suitable for scuba diving.
When out of the water, visitors like to hike or bike around the scenic lake to experience a hometown feeling.
Fishing

Lake Maxinkuckee is well known as one of Indiana's best lakes for catching walleye. An abundance of large and smallmouth bass, white bass, rock bass, trout, bluegill and yellow perch also allures fishing enthusiasts who know where to go for excellent fishing.
In the winter, Lake Maxinkuckee is open for ice fishing when conditions are safe. Bluegill, crappie, bass and yellow perch comprise the types of fish most frequently caught in cold weather.
Search Lake Maxinkuckee Resources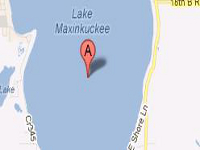 Coordinates:
41.2059N -86.4189W
Map It:
Lake Type:
Glacial
Surface Area:
1,854 acres
Maximum Depth:
88 ft
Elevation:
733 ft
Normal Water Clarity:
6-10 ft
Major City:
South Bend
Airport:
South Bend