Lake Manitou
Lake Manitou, located in the Northern Tourism Region of Indiana near Rochester, provides 1,156 acres of clean, spring-fed waters surrounded by parks and wildlife refuges. Naturally formed by glaciers, Manitou Lake offers recreational opportunities such as boating, water skiing, jet skiing, swimming and fishing.
For those who want to observe rare birds and marvel at nature's plant life that thrives in the marshes and woodlands, canoe tours take visitors to the Manitou Islands' Wetlands on the southeastern side of the lake. Some of the rare birds that inhabit the islands include the Virginia rail, sedge wren and marsh wren.
Lakeside Park, on the northwestern shore, provides a pavilion, picnic areas, fishing piers, a public boat launch ramp and a well-preserved butterfly garden. Nearby golf courses and walking trails are among other activities enjoyed by visitors and residents, alike.
Fishing

Lake Manitou is home to hearty populations of game fish, which attracts fishing enthusiasts to the lake, where they can fish from boats, piers or the shore. The lake's inhabitants include largemouth bass, yellow perch, black crappie, bluegill, golden shiner, gizzard shad, warmouth and spotted gar, as well as good-sized northern pike.
Search Lake Manitou Resources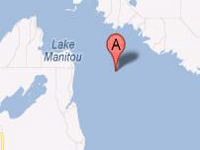 Coordinates:
41.0542N -86.1833W
Map It:
Lake Type:
Glacial
Surface Area:
1,156 acres
Maximum Depth:
24 ft
Elevation:
781 ft
Normal Water Clarity:
2 - 4 ft
Major City:
Indianapolis
Airport:
Indianapolis