Dogwood Lake
8,060 acres of small impoundments of wildlife habitat, including 1400 acres of recreational waters found in 22 ponds and Dogwood Lake, comprise the Glendale State Fish and Wildlife Area (FWA). Owned by Indiana Department Of Natural Resources, Dogwood Lake was formed by the 1963 completion of Glendale Reservoir, (formerly known as Dogwood Lake Dam), on Mud Creek in Daviess County.
Dogwood Lake is primarily used by anglers and boaters while the wildlife area surrounding the lake offers hunting, camping, picnicking, wild edible collecting and wildlife watching. Please note that a collecting permit is required for collecting anything except nuts, berries and mushrooms.
The wildlife area provides a home for deer, squirrel, rabbit, snipe, woodcock, dove, wild turkey and quail. Osprey, red-tailed hawks, woodpeckers, songbirds, bald eagles and a wide variety of waterfowl also find homes at Glendale FWA.
Various facilities are open seasonally while others are available year round. For example, the campground comfort station, which provides hot showers and flushable toilets is open from April 1 through Oct 31, and water fountains are only available from April 15 through October 15.
Fishing

When not fishing from a boat, anglers have three designated shoreline fishing areas and several fishing piers from which to reel in their daily catches. Two wheelchair-accessible fishing piers: one on the shore of Dogwood Lake and the other on Horseshoe Pond make fishing available to everyone. A fish-cleaning station near the entrance to the campground is available for all to use.
Stocked annually with largemouth bass, crappie, redear, bluegill, and catfish, Dogwood Lake offers excellent fishing opportunities. All legal bait is allowed. Please note that carp and live gizzard shad are considered illegal bait.
The lake closes to boats during every waterfowl season, and special permits are required to enter the waterfowl resting areas and / or to fish from the shore in designated areas. Be sure to heed the posted signs around Dogwood Lake. Some activities in marked areas are restricted or off limits.
Search Dogwood Lake Resources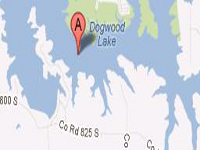 Coordinates:
38.5517N -87.0436W
Map It:
Lake Type:
Reservoir
Surface Area:
1,400 acres
Maximum Depth:
23 ft
Elevation:
488 ft
Normal Water Clarity:
4 ft
Major City:
Indianapolis
Airport:
Indianapolis