Cecil Harden Lake
Cecil M. Harden Lake, also known as Raccoon Lake, formerly know as Mansfield Lake, is located in west central Indiana, surrounded by lush forests and fertile farmland in Parke and Putnam counties. The beautiful lake provides over 2,000 acres of calm, cool and refreshing waters in a beautiful place for nature lovers and outdoor enthusiasts to partake in leisure and sporting activities such as hiking, swimming, boating and fishing.
35 Covered bridges, which were built between 1865 and 1921, scattered throughout Parke County, justifies the county's reputation of being the "Covered Bridge Capital of America". Every October, Parke County hosts a nine-day Covered Bridge Festival.
Housed in the Raccoon State Recreation Area, the historic Mansfield Roller Mill founded in1890, offers seasonal tours and corn grinding demonstrations.
Fishing

Cecil M. Harden Lake is a popular destination for fishing enthusiasts. Holders of an Indiana state fishing license enjoy reeling in large and smallmouth bass, white bass, striped bass, bluegill, crappie, catfish and walleye. Seasonal trout fishing is prosperous in the tail waters.
Cecil M. Harden Lake holds the state record for producing the largest Striped Bass caught in Indiana. In 2010, Jonathan VanHook's catch weighed in at 39 pounds 1.28 ounces.
Search Cecil Harden Lake Resources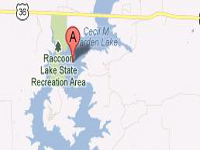 Coordinates:
39.7167N --87.0708W
Map It:
Lake Type:
Reservoir
Surface Area:
2,060 acres
Maximum Depth:
58 ft
Elevation:
690 ft
Normal Water Clarity:
3 - 5 ft
Major City:
Indianapolis
Airport:
Indianapolis