Sangchris Lake
In 1964, ComEd built a 50 foot earthen dam across Clear Creek a tributary of the South Fork of the Sangamon River, which created Sangchris Lake so to provide cooling waters for the Kinkaid power-generating plant and recreation for outdoor enthusiasts. Sangchris Lake, located in both Sangamon and Christian counties in south central Illinois, got its name by combining the beginning letters of both counties in which it is located.
Within the boundaries of the Sangchris Lake State Recreation Area (SRA), Sangchris Lake is less than seven (7) miles long from its headwaters to the dam and yet, there are so many inlets and coves, the 3,022 acres of refreshing waters are contained by a 120-mile long shoreline.
Fishing

Since it was officiated as an Illinois State Fish Preserve in 1972, Sangchris Lake continues to provide a perfect place for fishing enthusiasts to cast their lines. While Sangchris Lake is stocked with largemouth and striped bass, channel and flathead catfish, bullhead and carp, bluegill and crappie, anglers will also find healthy populations of sunfish, yellow perch, rock bass, warmouth and northern pike.
Jug fishing and trotlines are not permitted on Sangchris Lake.
Sangchris Lake holds the state record for producing the largest Striped Bass caught in Illinois. In 1994, Eric Shivers' catch weighed 31-pounds, seven-ounces.
The Illinois Department of Natural Resources Division of Fisheries offers "Spear/Bow and Arrow" and "Hook-and-Line" Sport-Fishing Awards to recognize anglers for fish caught in Illinois' waters. (Click here for details.)
Search Sangchris Lake Resources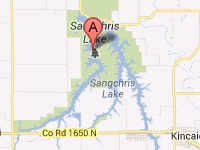 Coordinates:
39.6492N -89.4790W
Map It:
Lake Type:
Reservoir
Surface Area:
3,022 acres
Maximum Depth:
42 ft
Elevation:
584ft
Normal Water Clarity:
10 ft
Major City:
Springfield
Airport:
Springfield