Rend Lake
Rend Lake was built by the joint efforts of the Rend Lake Conservancy District, the Illinois Department of Natural Resources (IDNR) and the U.S. Army Corps of Engineers (USACE). Since 1965, Rend Lake has been not only a reliable water supply for the people of Franklin and Jefferson counties, but also a favorite recreation area for outdoor enthusiasts
Rend Lake, located in southern Illinois near Benton provides 18,900 acres of multi-purpose waters available for year-round recreation. The lake is 13 miles long by 3 miles wide with a 162-mile shoreline which has been partially preserved to facilitate wildlife management. The Rend Lake State Fish and Wildlife Area offers 20,000 acres of land on which a viewing tower allows for optimal wildlife observation.
Recreational opportunities offered by Rend Lake and the Rend lake State Fish and Wildlife area include boating, swimming, fishing, trap shooting, hunting, hiking and biking on miles of trails and camping.
The rules, regulations and fees for this lake can be found here.
Fishing

The Army Corps of Engineers and the IDNR work together to maintain abundant and healthy fish species sought by both sport and commercial fishermen and women. Such populations include largemouth bass, which average 3 to 5 pounds 17 - 22 inches long; white bass, which average 2 to 4 pounds 15 - 20 inches long; crappie, which average .5 to 1.5 pounds 6 - 12 inches long; carp, which average 9 to 19 pounds 20-35 inches long and bluegill, which average .5 to 1 pound, 6 - 10 inches long. Rend Lake is also home to a variety of hearty catfish. Channel Catfish caught in Rend Lake average10-20 pounds 25-35 inches; Flathead Catfish average 15-30 pounds 30-38 inches long and Blue catfish average 15-35 pounds 30-40 inches long.
Rend Lake holds the state record for producing the largest black crappie and bowfin caught in Illinois. In 1976, John Hampton's Black Crappie weighed four-pounds eight-ounces and in 1984 Charles R. Keller's Bowfin weighed 16-pounds six-ounces.
The Illinois Department of Natural Resources Division of Fisheries offers "Hook-and-Line" and "Spear/Bow and Arrow" Sport Fishing Awards to recognize anglers for fish caught in Illinois' waters. (Click here for details.)
Search Rend Lake Resources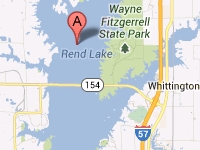 Coordinates:
38.0367N -88.9667W
Map It:
Lake Type:
Reservoir
Surface Area:
18,900 acres
Maximum Depth:
30 ft.
Elevation:
405 ft
Normal Water Clarity:
0-3 ft.
Major City:
St. Louis, MO
Airport:
St. Louis, MO