Powerton Lake
Powerton Lake, located in Illinois' Western Tourism District was built on the floodplain of the Illinois River by Commonwealth Edison Company in 1971, was constructed as a cooling reservoir for the fossil-fuel power plant. It is a "perched" lake, completely surrounded by levees with a rocky 11-mile shoreline. Powerton Lake provides 1,426 acres of fortified fishing waters which draw anglers from far and wide.
Powerton Lake is a seasonal, day use lake. Official lake hours are from 8:00 a.m. to 4 p.m. until May 1, when hours are extended to 6 a.m. to 8 p.m.
Fishing

Powerton Lake was initially stocked with quality classes of channel catfish, which have become one of the lake's best attractions.
The most sought after fish in this lake include largemouth and smallmouth bass, stripers, bluegill crappie, and the most popular species of catfish including channel, blue and flathead catfish, the latter of which has been caught weighing up to 60 pounds.
Powerton Lake provides suitable access to the fish via a fishing pier, shoreline-fishing areas and fly-fishing areas.
The Illinois Department of Natural Resources Division of Fisheries offers "Hook-and-Line" and "Spear/Bow and Arrow" Sport Fishing Awards to recognize anglers for fish caught in Illinois' waters. (Click here for details.)
Search Powerton Lake Resources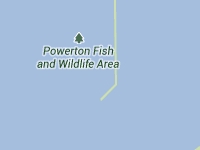 Coordinates:
40.5402N -89.6884W
Map It:
Lake Type:
Perched Cooling Lake
Surface Area:
1,426 acres
Maximum Depth:
15 ft
Elevation:
459 ft
Normal Water Clarity:
2-6 ft
Major City:
Peoria
Airport:
Peoria